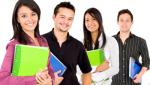 With an ever-growing number of tutors in Singapore, it can sometimes be quite a challenge to get new assignments. All of us at Ace Tutors understand the struggle. That's why we've started our Telegram channel – so that you would have a hassle-free platform that constantly updates you about new assignments.
We're providing opportunities for you to take on more assignments, so all you have to do is keep tabs on our channel and apply for the assignments that best suit you.
Ready to stay up to date with the latest assignments and acquire more students? Join Ace Tutor's Telegram channel now!