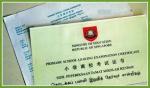 With the Education Ministry constantly raising the bar for difficulty levels in the PSLE examinations each year, it is not wonder that many students are struggling. Previously taught topics in the secondary level have even been pushed down to the upper primary syllabus and these includes topics such as algebra.
Needless to say, a child that has yet to fully develop the capabilities of his brain cells is at a disadvantage when learning new concepts. Of course, parents are now killing to find the best tuition teachers for their child taking the PSLE examination, so much so that it has become even more popular than the A levels and O levels tuition.
If you wish for your child to be ahead of the curve, look no further as Ace Tutors provides only the very best tutors that specialise in primary school subjects such as English, Mathematics, Science and Chinese. Our fully competent tutors are not only excellent at the upper primary syllabus and PSLE skills needed, they are patient and intellectual. So wait no further and apply for a PSLE tutor today. Ace Tutors offer free enquiries with no obligations at the most competitive price in Singapore!
---
Why Tuition for PSLE is Essential
Having the very first major examination that your child will experience is a tough ordeal to face, especially at such a young age. Sad to say in Singapore, it is also one where it will eventually decide the path which your child will embark on; and these can lead to very different outcomes in life later for your child. Doing visibly better will of course guarantee that your child would get into at least an elite school while failing to do so can ultimately cause him or her to settle for a lower tier school.
Of course, parents only want the best for their kids and have stellar results in every aspect of their life. It is true that only through adversity can you see the true value and potential of one but someone who fails their PSLE examination may not necessarily do well in life. Why bother putting the odds against your favour when you can simply excel from the start?
Even research has proven that the environment that your child grows up in will vastly affect the way they carry themselves and their education. Not only does going to a good school make for a better study environment, it will likely maximise and develop their learning capabilities and character, furthering their journey in life.
So wait no further and give your child a boost in his primary education with private PSLE tuition in Singapore.
Convinced to choose us? Simply fill up this form with no obligations!
---
Tuition Centres or Home Tuition for PSLE
In a cost competitive world like Singapore, it is only natural if you wish to save money when it comes to supplementary education. Tuition centres do just that by offering lower rates at the cost of attention paid to your child.
What they don't tell you is that when you throw your child in a tuition centre, the tutor has to deal with different types of students that study differently and each have their own separate abilities. Not only are the learning styles different, your child's tutor may not even pay specific attention to him/her and thus not be able to teach them effectively.
The primary reason why your child requires tuition for PSLE is because of the individual and personalised education that only a private tutor can provide. Bringing your child to a tuition centre will merely compound the workload that he already has, without the added benefit of learning and strengthening his core foundations. What you really want is a private one on one tuition which Ace Tutors offers, where the tutors would be able to fully customise the learning experience for your child!
| | | | |
| --- | --- | --- | --- |
| | Undergrads | NIE/Full-time Tutors | MOE Teachers |
| Primary 6 | $25-30 | $30-40 | $45-60 |
With our endless supply of tutors, all of strong capabilities and credentials, we are able to transfer this competitive advantage over to you. This means the LOWEST prices in Singapore and also the very BEST tutors available, all for you!
Discover The Best Tutor for Your Child Today
At last, you've finally decided that having a private tuition for your primary school kid is the best way to go. What's next you may ask? Well, depending on the needs of your child, we offer PSLE English, PSLE Math, PSLE Chinese, PSLE Science and all the other PSLE level tuitions for your choosing. All our tutors will travel to your homes and meet your specific needs.
If affordable rates and trusted tutors with free request and no hidden charges, you can rest assure that Ace Tutors has got you covered. Hesitate no more, and contact us today!