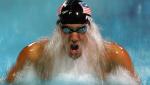 Michael Phelps, the world's most celebrated swimmer, has been driven since the age of 7 when his sisters were both superior swimmers. Initially afraid of the water, Phelps faced his fears and went on to outswim his siblings. Phelps began dreaming of being a swim champ when he watched the 1996 Summer Games held in Atlanta, Georgia, when he was just 11. By 1999, his high-school swim coach and another coach at a local aquatic center saw his potential, and he landed a spot on Team USA's B-Team the same year.
When Michael Phelps first showed up at the 2000 Olympics in Sydney, Australia, no one could have fathomed that he would become the hero that he is today. He didn't medal in 2000; Phelps went home empty handed but with determination to come back and take home the gold.
Phelps' appearance in the 2000 Olympics was a feat in itself. The youngest swimmer to compete for Team USA in nearly 70 years, Phelps was a mere boy of 15 in 2000, but his participation was more than just a learning experience. Within just a year of competing in Australia, Phelps went on to the 2001 World Aquatics Championship – and he won – breaking a world record in the 400-meter freestyle swim and becoming the youngest swimmer to do so, whetting his whistle for victories to come.
And so it began for Phelps. Over the next few years, he began collecting a store of gold and silver medals and breaking one world record after another. As of his most recent Olympics performance, Phelps has a total of 22 Olympic medals, 18 of them gold, and is one of the most heavily medaled athletes in the world as well as the most decorated Olympian competitor, ever.
What Drives Phelps?
Phelps mother is a big driving factor in his success. The son of divorced parents, Phelps grew up with mainly his mom around. Whenever Phelps would make a decision, his mom would always question him about whether or not the decision was the best thing for him, and he would think very hard about her question. He would write down his goals, and he'd keep them in sight so that he knew exactly what he wanted to accomplish. When reviewing his goal sheet, he'd renew his desire to achieve them.
Phelps also visualizes scenarios based on "best" and "worst" cases. This helps him prepare for anything that might come his way. He looks at failures in retrospect and makes them learning experiences so that he can never let the same thing happen again.
Regardless of his success, it was Phelps' mother who made sure that education was the most important thing in his life. From a young age, his love of sports was not allowed to supersede his academics, so he had to get his homework done before he could swim.