Best Tutors
Dear parents and tutors,
Introducing our new section, Best Tutors, where we collate the positive comments on our tutors. These words of encouragement are provided directly from parents and students who are clients of Ace Tutors. We hope to spur our tutors to do their best in their teaching, and reappear on the top of the list really often!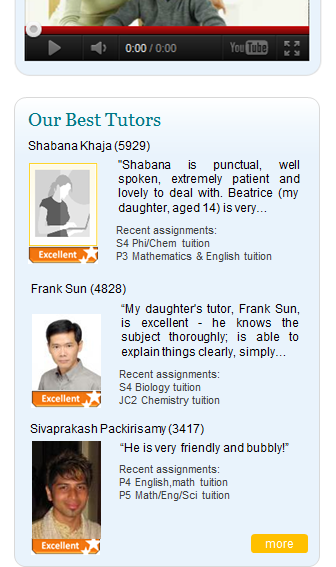 Parents may find it easier to browse our database for tutors who have received commendation before. At the Best Tutors page, the tutors' teaching locations are listed, along with the recent tuition assignments that they have taken e.g. S4 biology tuition will mean a Secondary 4 Biology tuition assignment that was taken from Ace Tutors not long ago.
As we usually tell our parent-clients, your feedback about the performance of our tutors are really important in terms of helping other parents identify the right tutors. It also contributes towards rewarding the deserving tutors for their dedication. Congratulations to the 36 tutors on the list!
You can follow any responses to this entry through the RSS 2.0 feed. Responses are currently closed, but you can trackback from your own site.